A study in the rural town of Goondiwindi Queensland in Australia has unearthed that shredded cotton made textile waste to cotton fields is beneficiary to soil without any adverse effect. And can offer profits to soil health, and a scalable solution to the huge global textile waste situation.
A 12-month trial on a cotton farm project, under the supervision of circular economy specialists Coreo, was a collaboration between the Queensland Government, Goondiwindi Cotton, Sheridan, Cotton Australia, Worn Up, and Cotton Research and Development Corporation supported soil scientist Dr Oliver Knox of UNE.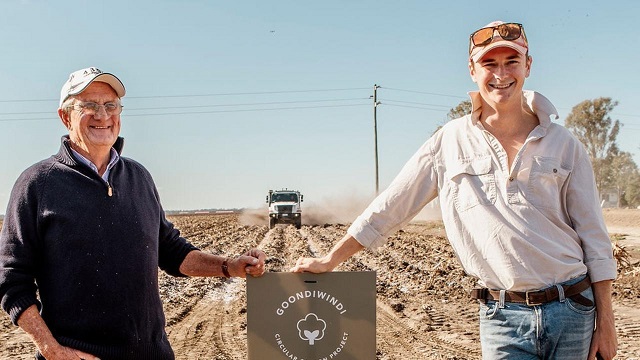 About 2 tons of end-of-life cotton textiles from Sheridan and State Emergency Service coveralls were handled at Worn Up in Sydney, transported to 'Alcheringa' farm, and spread onto a cotton field by local farmer, Sam Coulton.
Trial outcomes advocate such waste could appropriate for the cotton fields from which they were once harvested, instead than landfill, however project partners are to repeat their work during the 2022-23 cotton season to validate these initial findings.
Dr Oliver Knox, UNE (supported by the Cotton Research and Development Corporation) and a cotton industry supported soil scientist said, "At the very least the trial showed that no harm was done to soil health, with microbial activity slightly increased and at least 2,070 kg of carbon dioxide equivalents (CO2e) mitigated through the breakdown of these garments in soil rather than landfill."
"The trial diverted around two tons of textile waste from landfill with no negative impact on cotton planting, emergence, growth, or harvest. Soil carbon levels remained stable, and the soil's bugs responded well to the added cotton material. There also appeared to be no adverse effect from dyes and finishes although more testing is needed on a wider range of chemicals to be absolutely sure of that," Knox added.
As per Sam Coulton, a local farmer cotton fields easily 'swallowed up' the shredded cotton material, giving him confidence that this composting method has practical long-term potential.
Sam Coulton said, "We spread the cotton textile waste a few months before cotton planting in June 2021 and by January and the middle of the season the cotton waste had all but disappeared, even at the rate of 50 tons to the hectare."
"I would not expect to see improvements in soil health or yield for at least five years as the benefits need time to accumulate, but I was very encouraged that there was no detrimental impact on our soils. In the past we've spread cotton gin trash on other parts of the farm and have seen dramatic improvements in the moisture holding capacity on these fields so would expect the same using shredded cotton waste," Coulton added.
The Australian project team will now further enhance their work to figure out the best possible ways to collaborate. And the Cotton Research and Development Corporation is dedicated to funding a three-year cotton textile composting research project by the University of Newcastle that will additionally explore the outcome of dyes and finishes and explore ways to pelletize cotton textiles so they can be outspread on fields using current farm machinery.
---
Post time: Jul-27-2022